Hawaii's Simple Gourmet is doing their part to bridge the natural growers of Hawaii with the conscious consumers. We do this by creating high quality products sourcing and utilizing what was grown by those who enjoy producing them in an environmentally friendly manner.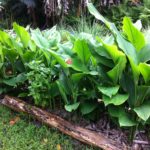 HSG showcases the growers who grow with the future in mind. The growers that are represented by HSG are those who do not use chemicals on Hawaii's soils. They take the time to grow in a manner that reduces or eliminates erosion and agriculture run-off by avoiding using tillers and tractors on Hawaii's soils. The focus is on producing quality plants rather than mass quantity. They rarely use heavy machinery and if they do, it is to shape the land for permanent agriculture systems and not mono-cropping. The farmers steer clear of synthetic, salt-based fertilizers and instead rely on natural sources of nutrients to reduce river and ocean pollution.
HSG was founded by two small-scale agriculturist that realized that it is near impossible to cost effectively grow and sell what they farmed in a manner that gave them a stable and quality income due to the present system. It was realized that small scale farming (organic) produced higher quality food, decreased erosion and pollution ad was better for the islands and the worlds environment.
If the small scale farmers growing in this manner today are not successful, why would the future want to grow in the same manner?
In order to ensure that there will be quality, natural and organic agriculture production in Hawaii for the future, we have to start supporting the growers of today. If these growers are not financially secure, would would the next generation work to be a natural grower.
To close this gap, HSG was created to ensure the small growers of today are financially stable. Growers are seldom business people. Business people seldom grow their own food. Ironically, business people make a good living and seek what natural growers are growing. To be successful a grower should not have to be a business person, or grow in a manner that is of less quality and one that has negative effect on our planet.
HSG purchases their ingredients from farmers for retail or higher. This is because these growers are our retail stores.
Food comes from growers.

High quality food comes from high quality growers.

High quality growers grow naturally, organically and more often than not on a small scale..
We introduce our farmers and encourage you to "Meet the grower" by reading the informational cards that come with each products. If you like what you tried, you can contact that grower and support them further.
You can find HSG products all over Hawaii. Currently they can be found at a retail outlet that supports local businesses including: KTA Puainako, KTA Waikoloa, Sweet Cane Cafe, Aloha Grown, Parker Ranch Store, Sweet Cane Cafe, Sweet Cane by the Bay, Island Naturals Hilo, Island Naturals Kona, Hyatte Spa Waikiki (Oahu) and the St. Franscis Hospital Gift Shop (Oahu).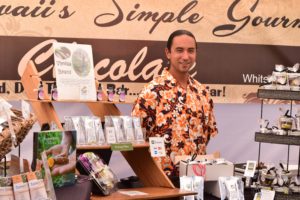 As HSG continually expands so will our farmers market booths. You will have an opportunity to meet the grower and see more of what they are passionate about while being able to sample our partnership products like Hawaii's Simple Gourmet Chocolate. These booths are easily distinguishable! Look for the HSG Chocolate Banner with a farmer near by!
Learn More about Hawaii's Simple Gourmet:
About HSG Logo
About Made In Hawaii
The Start
Our Future